Atomic Bent 100 Skis + Salomon S/Lab Shift MNC 13 Alpine Touring Ski Bindings + evo x Pomoca Pro Glide Climbing Skins 2023
---
Rocker Type
Powder Rocker – 20% Tip Rocker / 70% Camber / 10% Tail Rocker

Shape
HRZN Tech Tip and Tail – HRZN Tech Tip & Tail takes an ABS sidewall construction and blends it with a revolutionary across-the-ski, horizontal rocker. It adds 10% more surface area in tip and tail for awesome float – plus less tip deflection and better tracking through chop. The ultimate design for powder skiers.
Core
Light Woodcore – Made from poplar wood, this core optimizes the ski's weight without sacrificing any shock absorption or stability.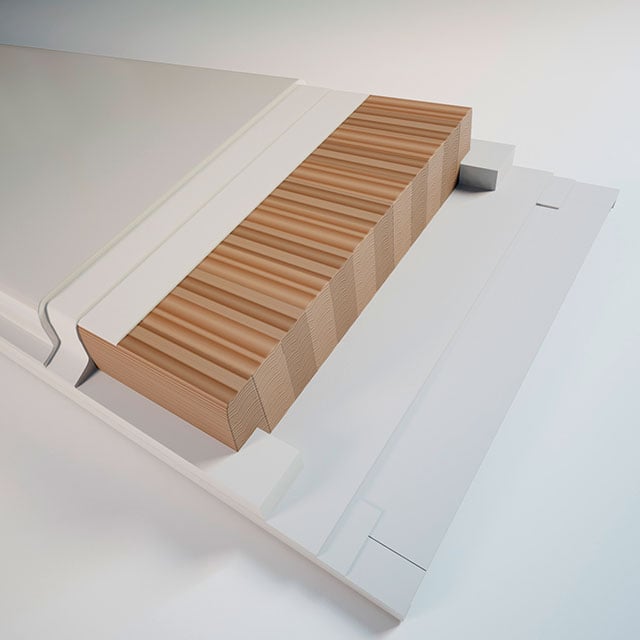 Sidewalls
Dura Cap Sidewall – Sidewall for power transmission combined with a small cap for durability.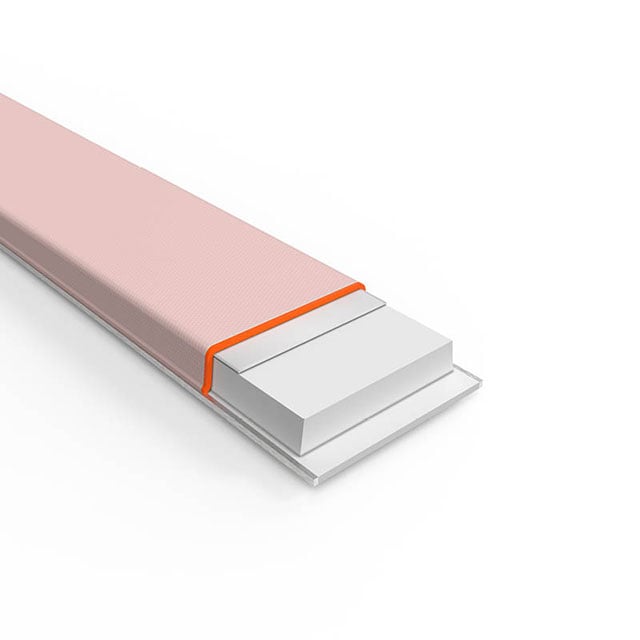 Base
Atomic Base – High-density sintered bases that are fast in a variety of snow conditions and accept wax readily
Edges
Resist Edges – Beefier edges offer better durability for hitting rails.
Binding Compatibility
We recommend a brake width equal to or at most 15 mm wider than the ski waist width.
Toe
Dual Mode Toepiece – MNC (Multi-Norm Certified) for skiing, including Alpine, Grip Walk, WTR, and ISO 9523 soles. Converts to a tech toe for touring (requires a boot with tech toe fittings).
Automatic Wing Adjustment – Automatic adjustment just by stepping-in. You can forget but nevertheless trust your binding!
Toe Height Adjustment – Adjustable toe height to let you switch between different boot norms.
Easy Step-In – Less effort needed to step-in and out of bindings
XL Wings – Long wings for a great envelopment of the boots.
Lateral Elasticity – 47mm
Heel
Freeski Brakes – Self-retracting brakes for a close position to the heel so they never catch.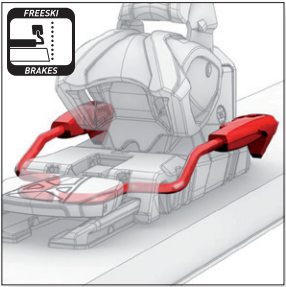 Tour Mode
Hike and Ride Switch – Lever at toe shifts between hike and ski mode.
Accessing Toe for Touring – 1. Pull back on block between toe wings to open tech arms. 2. Depress front lever to widen arms to step in. 3. Pull up on lever to lock arms securely for skinning.
Preparing Heel for Touring – Pull back on the brake pad and fix the brake in the "up" position by stepping down on the pad.
Boot Compatibility
MNC (Multi-Norm Certified) – Certified for use with ISO 5355 Alpine, ISO 9523 Alpine Touring, and WTR (Walk To Ride) boots.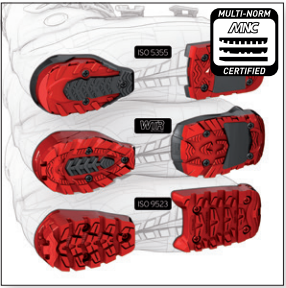 Tech Toe Fittings Required For Use In Uphill (Touring) Mode
Requires Boot with Full Heel and Toe Lugs – Not compatible with boots like the Dynafit Hoji Pro Tour and TLT, Atomic Backland, Salomon X-Alp and Arc'teryx Procline, among others. These boots have shortened or non-existent lugs and will not fit into the Shift in downhill mode.
Additional Features
Low Profile Chassis – Low stand height for increased terrain feedback and enhanced power transmission.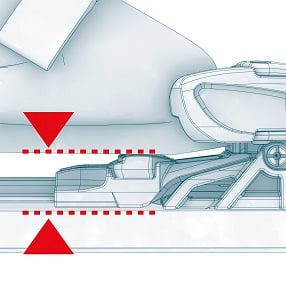 Oversized Platform – Wide footprint and double aluminum frame tubes create a super strong interface between boot and ski. Ensures maximum lateral power transmission.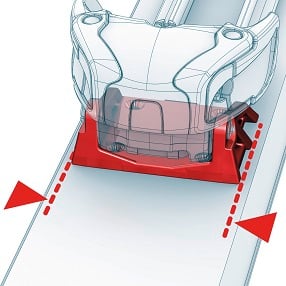 +Elastic Travel – Ultimate elastic travel to hold in boots during impact in order to go bigger with no risk of pre-release.
Compatible with Salomon S/LAB Shift Crampons
Carbon-Infused PA Construction
Ski Compatibility
We recommend a brake width equal to or at most 15 mm wider than the ski waist width.
Material
Ever Dry 3.0 DWR – PFC-Free
Tip and Tail Attachments
Ready2climb – The ready2climb skin can be cut to a specific ski in just two minutes without any special tools. The adjustable loop can be fixed to any type of ski.
Features
Grip – Pomoca uses a combination of materials and weaving techniques to combine glide and durability with gripping power. Proper alignment and the fiber attachment systems make Pomoca skins very stable under all conditions and for the life span of the skin.
Glide – This exclusive process gives ski tourers extra glide with less effort. This treatment, applied at the end of the production process and to to entire length of the fiber, makes the skin glide and resist moisture more effectively. Skins with Glide offer an effective process for the entire life of the skin, and unique anti-glopping performance.
Safer Skin Light – Pomoca has succeeded in making it's classic Safer Skin membrane lighter. Thanks to finer layers in the membrane, Safer Skin Light is 12% lighter (150g / m² less). Safer Skin Light makes each pair 60 - 75g lighter, while remaining 100% waterproof and providing slightly less wear resistance.
Includes Pomoca Skin Trim Tool and Storage Bag
Proposition 65 Warning for California Consumers
This product may contain chemicals known to the State of California to cause cancer, or birth defects, or other reproductive harm.
Terrain:

All-Mountain

Terrain

All-Mountain

All-mountain skis are designed to handle anything you throw at them including powder, ice, groomers, steeps, heavy snow, and everything in between, but they aren't necessarily a master of any one terrain. If you're only going to own one ski to do it all, this is what you want. All-mountain skis generally have what we call mid-fat waists that range from 80-110 mm.

Skis:

No Bindings

Ability Level:

Intermediate-Advanced

Ability Level

Intermediate-Advanced

Whether you're a progressing intermediate exploring new runs and terrain, or an accomplished rider seeking new thrills, the majority of skiers and snowboarders fall into this level. Intermediate to advanced skis and snowboards may be somewhat wider or stiffer than beginner-intermediate skis and snowboards, usually with a stronger wood core and sandwich sidewall construction. Intermediate to advanced boots and bindings range from softer flexing freestyle options to stiffer choices built for stability at speed.

Rocker Type:

Rocker/Camber/Rocker

Rocker Type

Rocker/Camber/Rocker

Rocker/Camber/Rocker skis have the playfulness and float of a rockered ski as well as the added edge hold of a cambered ski. The contact points on skis with this profile are closer towards the middle of the ski than a fully cambered ski, but still not underfoot. The cambered midsection provides a longer effective edge on hardpack, increasing e

dge hold and stabi

lity, while the rockered tip and tail provide floatation in deeper snow and allow the ski to initiate and release from turns easier.

Turning Radius:

Medium

Turning Radius

Medium

17-22 m radius is best for all-mountain and park & pipe.

Core/Laminates:

Wood

Tail Type:

Partial Twin Tip

Tail Type

Partial Twin Tip

Partial twin tip skis have a tail that is turned up, but not as much as the tip. This gives you the ability to ski backwards and back out of tight spaces, but these skis are mainly designed to ski forward.

Athletes:

Chris Benchetler

Warranty:

2 Years
| | | | | |
| --- | --- | --- | --- | --- |
| Size (cm) | 164 | 172 | 180 | 188 |
| Tip Width (mm) | 127.5 | 128.5 | 129.5 | 130.5 |
| Waist Width (mm) | 100 | 100 | 100 | 100 |
| Tail Width (mm) | 118 | 119 | 120 | 121 |
| Turning Radius (m) | 16.4 | 18 | 19.5 | 21 |
| Indiv. Ski Weight (g) | | | 1700 | |
Type:

Tech

Length:

Any

Ability Level:

Advanced-Expert

Ability Level

Advanced-Expert

Whether you charge the steepest lines, hit the biggest jumps in the park or carve with race-like precision, advanced to expert level skis, snowboards, boots and bindings are for the more aggressive rider. In skis and snowboards, you'll often find layers of metal, carbon or other stringers for rigidity and power, while advanced to expert level boots and bindings are usually on the stiffer side of the spectrum for rebound and precision steering.

DIN / Release Value Low:

6

DIN / Release Value High:

13

Boot Sole Type:

Alpine DIN (ISO 5355), Alpine Touring (ISO 9523), Tech, Walk to Ride (WTR), GripWalk (ISO 23223)

Warranty:

2 Years
| | | | | |
| --- | --- | --- | --- | --- |
| Size (mm) | 90 | 100 | 110 | 120 |
| Indiv. Binding Weight (g) | 885 | 885 | 885 | 885 |
Material:

Mohair/Nylon

Compatibility:

Trim to Fit

Warranty:

365 Days + 1
| | | | | |
| --- | --- | --- | --- | --- |
| Size | 140 mm x (L) 175-190 cm | 140 mm x (M) 165-180 cm | 140 mm x (S) 155-170 cm | 140 mm x (XL) 185-200 cm |
| Width (mm) | 140 | 140 | 140 | 140 |
| Length (cm) | 175 - 190 | 165 - 180 | 155 - 170 | 185 - 200 |
---